NHL 21 team of the year is announced by EA Sports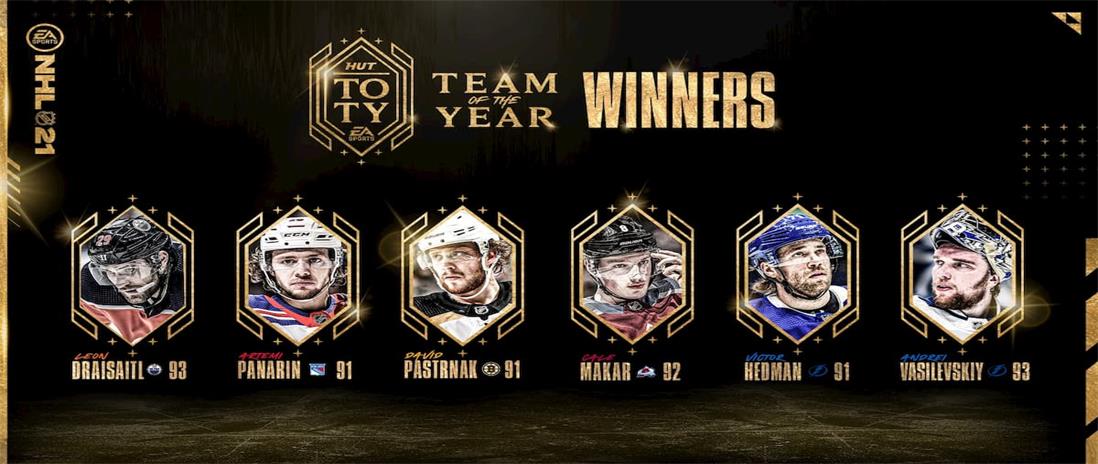 It's been a tough year for sports, but with the NHL 21 Team Of The Year, it has not stopped EA Sports from celebrating the best of hockey. Today, the company announced the entire team, which was headlined by two Stanley Cup-winning Tampa Bay Lightning participants, and four others from separate teams. Each player can get a few nice things from the team, first with the in-game items, as each player will have added to their character a special Team of the Year HUT piece. Meanwhile, all six will be awarded limited edition skates in the real world and, for goalie Andrei Vasilevskiy, a custom mask designed by DaveArt's David Gunnarsson. Below, you can learn all about all six choices.

Victor Hedman – Just as he does in Tampa Bay, Hedman will be the answer to teammate Andrei Vasilevskiy's last line of defense. During the regular season, Hedman not only posted 55 points over 66 matches, but the sweet-skating Swede scored almost a point-per-game in the Stanley Cup Playoff en route to being awarded the coveted Conn Smythe trophy, awarded to the most outstanding player of the playoff.
Cale Makar – Makar made his first NHL TOTY at just 21 years of age, among the most recognizable faces in the NHL youth movement. The rookie defenseman gives the Colorado Avalanche blueline nightly excitement, showcasing his offensive prowess with 50 points in 57 games played. This year's Calder Trophy, given to the league's best rookie, was awarded to the UMass product.
Andrei Vasilevskiy – Vasilevskiy enjoyed an almost flawless season at just 25 years old. Only to be topped off by backstopping his Tampa Bay Lightning team to the franchise's first Stanley Cup since 2003-04, the Russian netminder led NHL goalies in regular-season wins.
Artemi Panarin – The upstart New York Rangers depended heavily on the Russian sniper who, in 2020, posted a ridiculous 95 points in 69 regular-season matches. Despite the shortened season and his fast release figures to give competition nightmares both in and out of NHL 21, his 32 goals were a career-high.
Leon Draisatl – The NHL's MVP made his Team of the Year debut this past season. Draisaitl led the NHL, partnering with Conor McDavid to form the NHL's most feared pair, both assists (67) and points (110), leading the Oilers to the Western Conference's fifth-best record.
David Pastrňák – The highest goal scorer in the NHL is coming off his career-best season with the Boston Bruins. His 48 goals were tied for the league's lead with cover athlete Alex Ovechkin, helping to drive the Bruins to a league-best 100 regular-season points.


If you are an NHL sports fan. I definitely recommend this game to you,I think this game will bring you a lot of fun. If you have already stepped into this game for a while, you probably know how NHL 21 Coins work for this game, and how important it is. As we know, NHL 21 Coins are the vital in-game currency within the new series of professional hockey simulation video games, which may be wont to instantly unlock new top-rated players for build up a robust HUT team and buy most of the cosmetic items, also as used for micro-transactions.
The good news is right now you could just buy NHL 21 Coins with the lowest prices above all online trading websites from Lolga.com.
Lolga.com offers you the most cost-effective HUT 21 Coins, 100% safe legit, instant delivery, and all-time online customer support. We promise all a budget NHL 21 Coins purchasable here are legit to use, reliable transaction and safe payment guaranteed, no risk no spam! Worldwide secure payment methods are supported to make sure you'll buy HUT 21 Coins here instantly and simply. Lowest prices for NHL 21 Ultimate Team on all platforms, nobody can hammer in the entire market. Quick delivery in 5- half-hour for 99% of consumers, you'll track your order status on site instantly.
24/7 Online Customer Support through LiveChat and Email can assist you anytime once you have a drag with buying NHL 21 Coins at Lolga.com!