Something You Should Know about Path of Exile Character Classes
In role-playing games (RPG), a character class is a job or profession commonly used to differentiate the abilities of different game characters. A character class aggregates several abilities and aptitudes, and may also detail aspects of background and social standing, or impose behavior restrictions. As a popular RPG, Path of Exile also has character classes. Here is a brief introduction of the Character Classes in Path of Exile.

Full List of Character Classes in Path of Exile
There are seven character classes in Path of Exile. Six are available at the beginning of the game and one unlocks later. The classes are defined by how they combine the three primary attributes of Strength, Dexterity and Intelligence.
Marauder
It is Path of Exile's pure strength class, which means that he's great at taking hits, and even better at dishing out punishment. His melee skills encompass a wide range of assault, from massive single target damage to devastating area of effect. This brute of a man bolsters his impressive physical arsenal with a variety of shouts and cries, skills that rally his allies and strike terror into the hearts of his enemies.
Ascendancy classes: Juggernaut, Berserker, Chieftain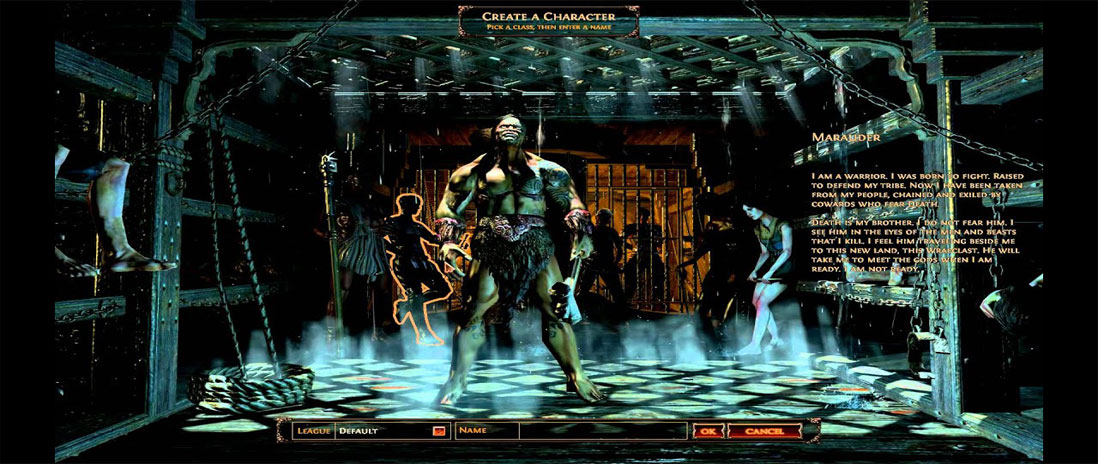 Duelist
It is Path of Exile's strength/dexterity hybrid class, making him unmatched at dealing and avoiding damage. He can effectively use a shield, but is equally comfortable slashing away with a powerful two-hander or fighting with weapons in both hands. His powerful arms can draw the strings of the heaviest and most lethal longbows. His highly honed reflexes give him a cat-like ability to dodge and parry incoming attacks, be they arrows or axe swings. The Duelist is a daunting foe, and his reputation as a ruthless killer is well deserved.
Ascendancy classes: Slayer, Gladiator, Champion
Ranger
It is Path of Exile's pure dexterity class, which befits her slim and graceful appearance. She is agile and fast, darting in and out of combat to deliver vicious critical strikes that often fell her enemies in a single blow. Her natural quickness grants her a profound ability to avoid damage, and she tends to garb herself in light leathers and cloth. She has tremendous proficiency with ranged weapons, but she is as lethal as any man on the battlefield with a sword.
Ascendancy classes: Deadeye, Raider, Pathfinder
Shadow
It is Path of Exile's dexterity/intelligence hybrid class. He prefers to use fast-hitting weapons such as daggers or claws to dart in and out of battle, while laying traps or remote mines and controlling the flow of combat. He makes surgical use of offensive spells while dodging attacks, always outmaneuvering his opponents.
It is one of the more difficult classes to play due to his fragility, but he more than makes up for it if handled with skill. His hit-and-run style of combat makes the most of his natural evasion and energy shield, and rewards strategic coordination of attacks, spells, and traps.
Ascendancy classes: Assassin, Trickster, Saboteur
Witch
It is Path of Exile's pure intelligence class, making her an unmatched master of the elemental and dark arts. She wields the power of raw magic to decimate her foes from a distance. Her tremendous will surrounds her with a shimmering barrier against physical and magical attacks, a barrier that must first be pierced before the Witch herself is vulnerable. In addition to pure damage-based magic, the Witch can also cripple and kill her enemies with curses and diseases. She is a leery friend, and a dangerous enemy.
Ascendancy classes: Necromancer, Elementalist, Occultist
Templar
It is Path of Exile's strength/intelligence hybrid class, a perfect balance of brawn and wits. He is a skillful fighter, trained in an array of weapons, from the sharpest cutlass to the heaviest two-handed mace. He's also comfortable wielding a shield, either for additional protection or as a deadly bludgeon. In combat, this pious warrior is expert at augmenting his substantial offense with a wide range of magical abilities. The Templar is also adept at taking punishment, and he's happy to be up at the front lines, serving as a martyr and champion for his ranged companions.
Ascendancy classes: Inquisitor, Hierophant, Guardian
Scion
The daughter of corrupt nobles, the Scion was exiled to Wraeclast for killing her husband on their wedding night. She is aligned with all three core attributes - strength, dexterity and intelligence, which places her in the center of the passive skill tree. This unique position allows her to develop into almost any type of character build, while lacking the dedicated specialisation that the other six classes offer.
Ascendancy class: Ascendant
If you are tired of grinding items in Path of Exile, you can come to Lolga.com. With over 7 years of experience, we offer cheap Path of Exile Items and Path of Exile Currency to help you level up faster and enjoy the game better. Cheap POE Items for sale at Lolga.com with fast delivery, safe transaction and 24/7 livechat service. As a reliable and trustworthy seller, we are committed to providing you with dependable services at a fair price. If you have any problems on buying Path of Exile Items or place an order from us, please feel free to hit us up via our 24/7 online livechat. Have fun in shopping POE Items here!