Check out detailed ACNH August's Fireworks Event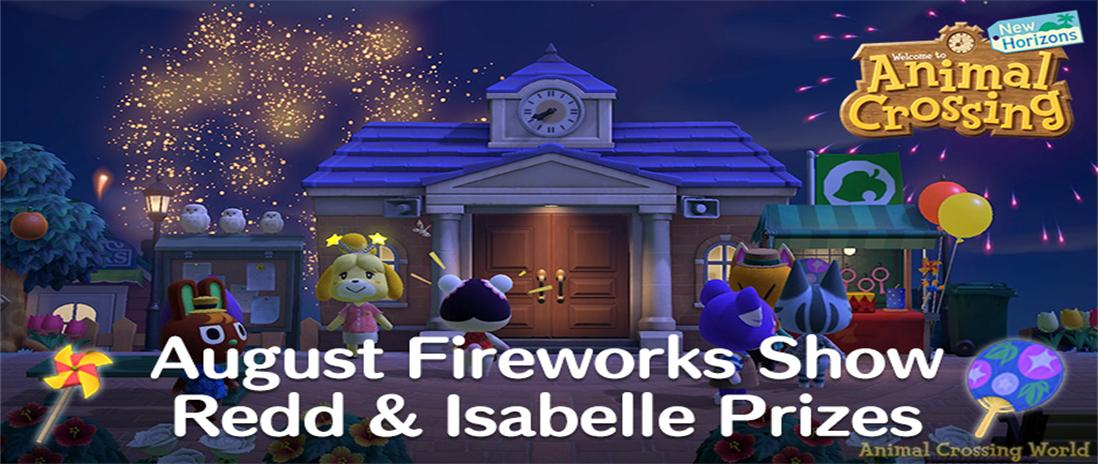 The Fireworks Festival is held every year in August in ACNH. This festival is full of brilliant lights and celebrations, as the name suggests. Additionally, you can win special products in a raffle, create creative fireworks designs, and get themed goodies from Isabelle.
Every year, the festival's main attraction is the weekly fireworks spectacular. The fireworks show takes place every Sunday in August from 7 pm to 9 pm. Unlike earlier seasonal updates, this one will be celebrated concurrently by players from both hemispheres. As a result, the fireworks show will take place on the following days this year:
• August 1st

• August 8th
• August 15th
• August 22nd
• August 29th
You can visit Isabelle at the Resident Services facility on the day of the fireworks show to design bespoke firework patterns. These patterns will be shown in the order that you developed them later in the day on the program. You can choose from up to 10 different bespoke designs. After that, you can relax on a lawn chair and enjoy the entertainment.
Fireworks Festival prizes

During the fireworks show, Red, the Fox inhabitant of Animal Crossing, appears as the host of a raffle. There are 24 prizes in the raffle, each of which corresponds to a distinct ticket number. This fox is infamous for stealing artwork and selling it to gamers, so expect some high-value prizes on the raffle list. The following Animal Crossing items are now up for grabs in the raffle:
• Red sparkler
• Blue sparkler
• Fountain fireworks
• Bubble blower
• Uchiwa fan
• Pinwheel
• Tweet
• Blue balloon
• Red balloon
• Yellow balloon
• Green balloon
• Pink balloon
• Ramune-Soda Frozen Treat
• Orange Frozen Treat
• Chocolate Frozen Treat
• Plain Cotton Candy
• Melon Cotton Candy
• Ramune-Soda Cotton Candy
• Strawberry Cotton Candy
• Boba Milk Tea
• Boba Coffee
• Boba Strawberry Tea
• Boba Mango Tea
• Boba Green Tea
You must purchase a raffle ticket from Redd at the Prize booth in order to participate in the drawing. The cost of each ticket is 500 bells, and there is no limit to the number of tickets you can buy, lack Animal Crossing Bells? Check out the ACNH bells Guide from LOLGA. As a professional online game trading website, LOLGA supports Animal Crossing items trading service, you can find all tradable ACNH items here. You will get prices that satisfy you.
So How do you intend to spend your time at the Fireworks Festival?

Go online to our website-LOLGA if you'd like more information on Animal Crossing New Horizons. Here are the foremost recent game developments, and Animal Crossing-related online trading services also are offered, like Animal Crossing Bells and Nook Miles Ticket.

If you would like to buy Nook Miles Ticket and ACNH Bells. No doubt Lolga.com would be your best-suited choice.