[FIFA News] FIFA annual Footballer of the three candidates list has finally come out
In the best coach and Puskas Award candidate announced, the most important FIFA annual Footballer of the three candidates list has finally come out. Unsurprisingly, Messi and C Luo is still as impressive as in previous years, and this year the first three candidates were Atletico Madrid striker Glitzman in the bag, the final results will be January 9 next year in the Zurich, Switzerland.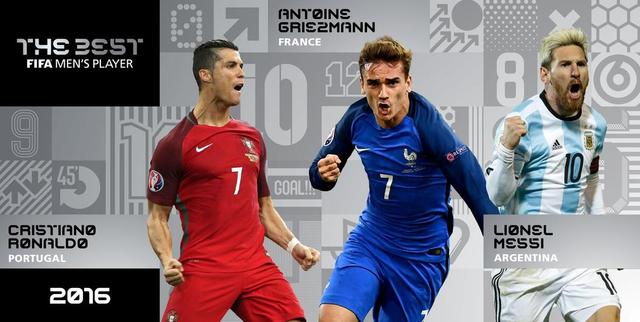 FIFA in the official website first introduced C Lo this year's performance, he first won the Real Madrid (data) in the second Champions League, and 16 goals to be elected last season, the Champions League striker king. Six weeks later, he helped the Portuguese team win the European Cup for the first time in history, he scored three goals in the entire race. Although the final he played only 25 minutes because of injury end, but contributed to the team's contribution.
Followed by Geli Zeman, in recent years he has always been on the rise of the past year, he is undoubtedly one of the world's best players. Geliziman this year has helped Atletico Madrid and the French national team reached the Champions League and the European Cup final, although both regret losing, but his performance for all to see. In addition, he is this summer's European Cup shooter king.
Argentine leader Messi also spent a good year, he led Barcelona (the official website data) won the domestic league and cup double crown, and led Argentina once again rushed into the America's Cup final, although in the penalty shootout Lost to Chile, but Messi in the team's positive role played no doubt. Through this America's Cup, he has scored in the number of goals beyond Batistuta, Argentina became the first scorer in the history of the team.
More than 3 are quite competitive, and ultimately who won the honor also please wait and see. At the same time, FIFA annual football candidates have also been announced. They are the German midfielder Melanie - Belinger, the United States iron waist Carly - Lloyd and Brazil striker Marta.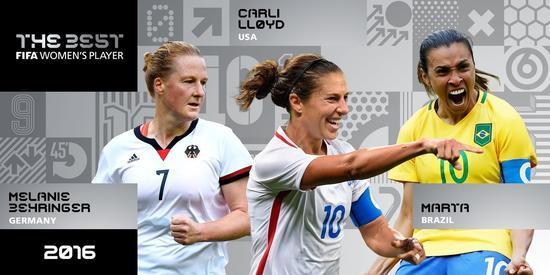 Melanie Belinger is the main member of Germany's Olympic championship this summer, she often can enter the game in the key ball, which makes us more profound impression that the Chinese team should be the winning goal. Carly - Lloyd is the winner of last year 's award, she scored a total of 17 goals this year. 30-year-old veteran Marta was 5-year-old FIFA annual football player, which is Fengyun evergreen tree in the past 13 years, the 12th final candidate list. This summer, she hosted the Olympic host hopes, but unfortunately only to help the team to achieve the fourth result, missed the medals, but it is enough to awe.