Qualifiers of Fortnite World Cup Week 7 Will Compete in NYC
On the weekend of May 25-26, qualifiers of Fortnite World Cup Week 7 raised the curtain across such servers as North America - East, North America - West Europe, Asia, Brazil and Oceania. After a two-day fierce competition, the qualifiers who will compete for the finals have been revealed today.
Overview of Fortnite World Cup
Early in 2019, Epic Games shared the details on Fortnite Worl Cup as well as the $100,000,000 competitive prize pool for 2019. There are ten weekly Online Open qualifiers running from April 13 to June 16. Each week $1,000,000 will be on the line for eligible* Fortnite players, with payouts distributed broadly. The top 100 Solo players and the top 50 Duos teams from around the world will compete for the Fortnite World Cup Finals in New York City July 26-28 with a $30,000,000 prize pool up for grabs! Each one of those players will be guaranteed at least $50,000 and the Fortnite World Cup Solo Champion will walk away with $3,000,000.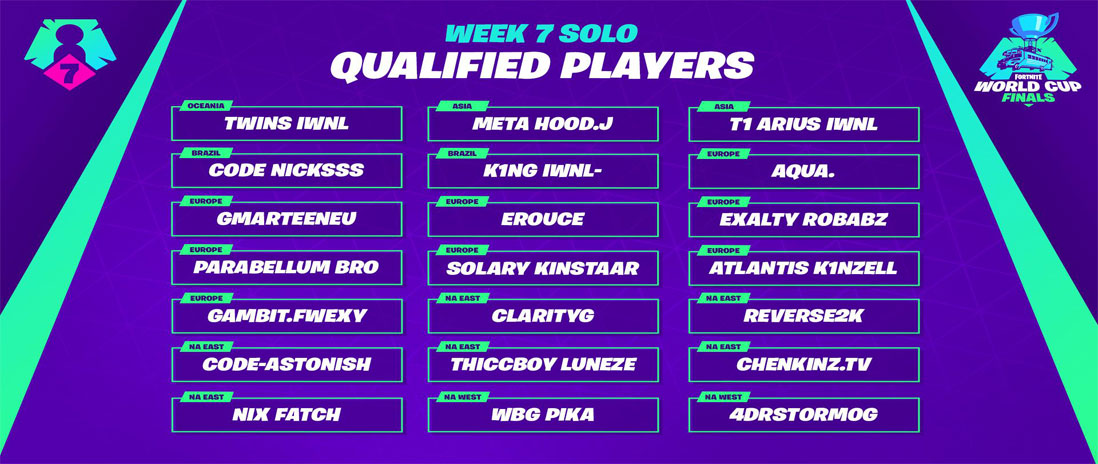 Now, seven weeks have passed and the qualifiers for Fortnite World Cup Week 7 will compete in the finals in New York City. Only three weeks left for players around the world to fight for the rest places. Who will be the lucky dog for the attractive prize? What you should do at present is to try hard to be a member of the qualifiers for the finals of Fortnite World Cup.
Buy Fortnite Items Safely and Quickly from Lolga
To help players go further in the game, Lolga.com offers different kinds of Fortnite Items, including materials, weapons and traps with cheap price to help you build a unique character. With over 7 years of experience in this field, we have fullly stocked Fortnite Items so that you can buy them here easily. Fast delivery, low prices and safe payments are guaranteed to each client. Our goal is to provide all clients with high quality Fortnite Items as well as the best customer service.
Steps to Buy Fortnite Items from Lolga.com
The shopping process is as simple as below.
1. Select the items you need, add them to shopping cart, or pay immediately.
2. Submit the correct information and complete the payment.
3. Accept our invite in the game, if the waiting time is too long, please contact customer service.
Cheap Fortnite Items are on hot sale at Lolga.com with instant delivery, safe transaction and best service. If you have any problems or questions for buying Fortnite Items, please feel free to hit us up through our 24/7 online livechat. We wish you a good shopping experience.