Week of the best Samsung: East and West door gods selected, blues first place on the list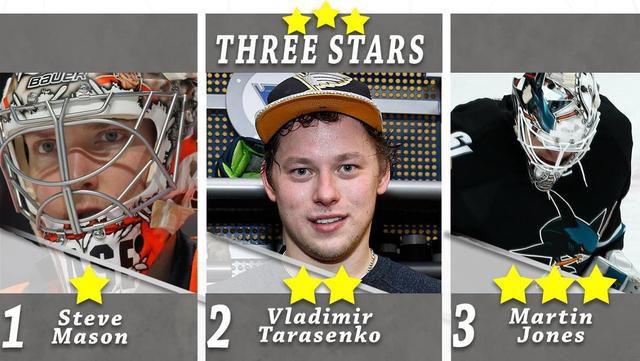 Cover
NHL selected last week's league's best three-star player, Philadelphia Flyers goalkeeper Steve Mason, St. Louis Blues right-wing Vladimir Tarashenko And San Jose Sharks goalkeeper Martin Jones were elected.
The first star - Steve Mason, goalkeeper, Philadelphia trapeze
Last week, Mason won four straight victories, averaging only 1.71 clean sheet, save rate of 94.5%, he helped the trapeze broke into the wild card area in one fell swoop. In November 29th the team beat the Boston Bruins 3: 2 game, he made a season-high 45 saves, and saved the penalty shootout in the other 9 shots in 8 times. Dec. 1 3: 2 overtime victory over Ottawa Senator in the game, he made 19 saves. He then made 26 saves in a 3-1 win over the Chicago Blackhawks on Dec. 3, and made 30 saves in a 4-2 win over Nashville Predators on Dec. 4 to win back-to-back victories. Mason's record of 9 wins, 8 losses, 3 negative overtime, averaging 2.76 goals conceded save rate of 90.4%, his four-game winning streak is currently second only to his December 17-30, 2013 Made five-game winning streak.
Mason was thrilled when he accepted the call: "It's a very good time, there are so many good players in the league and they always get good results every week and I think the team is in good shape, We have benefited from the good performance. "
The second star - Vladimir Tarashenko, right-wing, St. Louis Blues
Tarashenko scored four goals last week, the league first, 3 games he scored a total of 4 goals and 1 assists a total of 5 points, of which there are two winning goals, he helped the team last week to obtain 2 wins and 1 overtime negative results, currently in the Central and the entire west came in second place. In November 28th 4: 3 to beat the Dallas star game, he scored the occupation of the first six overtime gold. Then in the December 1 5: 4 victory over Tampa Bay Lightning game, he got 4 points, tied the career record, but also won the occupation of the first three hat-trick. On Dec. 3 the team lost to the Winnipeg Jets in a 2: 3 overtime loss. 24-year-old Tarashenko played 25 games this season, made 13 gold ball 14 assists a total of 27 points in the performance of the league scoring list third.
The third star - Martin Jones, goalkeeper, San Jose Shark
In last week's three games, Jones made three straight, averaging 1.01 goals conceded, fighting rate of 96.2%, he lost only one ball in each game to help the sharks now occupy the Pacific Ocean Partition first. In November 29th the team 2: 1 overtime win over Arizona coyotes in the game, he made 18 saves. November 30 4: 1 victory over the Los Angeles Kings in the game made 26 saves. He then made 31 saves in a 2: 1 jump in the league-leading Montreal Canadiens match on Dec. 2. 26-year-old Jones, 13 wins this season, ranked second in the league tied for 22 wins, 13 wins, 8 losses, 1 loss, his averaging 1.99 league ranked fifth, .