Rocket League Update V1.61 Patch Notes Brings New Items, Replay FX and More
Psyonix has announced a Rocket League v1.61 update before the release of Rocket Pass 3. It is also called as Esports Shop Update. This new update available on PS4, PC and Xbox One brings new features to Rocket League, including new customization items from Esports Shop, Replay FX and HDR support.
Do you want to have a closer look at what's in this v1.61 update? Here are the full details.
Rocket Pass 3
Rocket Pass 3 begins on April 17 at 10 a.m. PDT / 5 p.m. UTC
Esports Shop
Customization Items are now available via the new Esports Shop
Select 'Shop' from the Main Menu, then select 'Esports Shop'
Items in the Esports Shop can be purchased with Esports Tokens
Esports Tokens can be purchased with your local currency, and cannot be purchased with Keys
Esports Store items are available in time-limited intervals
Each item will have a timer located below the preview thumbnail in the Esports Store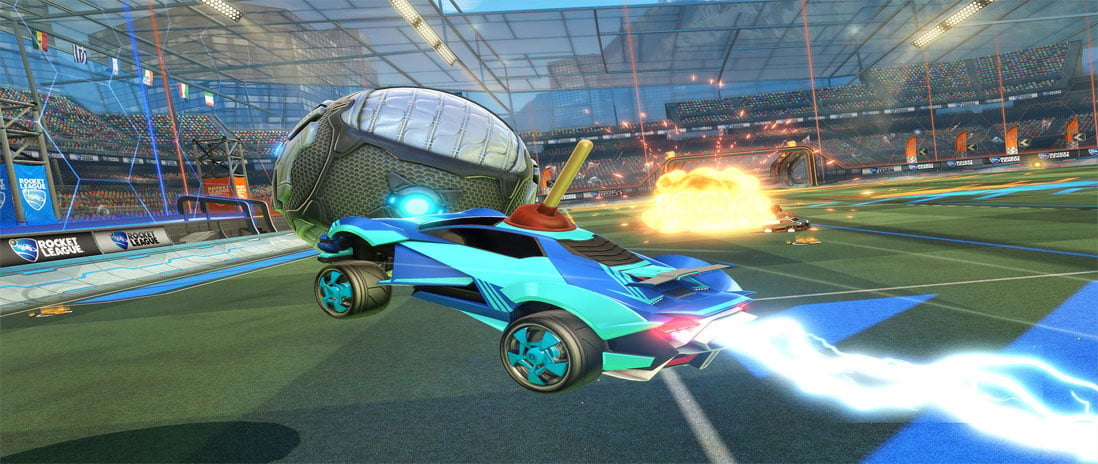 Monstercat
New Antennas are now available in the 'Monstercat' folder:
Notaker
FWLR
Changes and Updates
Rocket Pass Challenges
Challenges are a new way to unlock Tiers in Rocket Pass and the Rocket Pass Premium Upgrade
Select 'Rocket Pass' from the Main Menu, then select the 'Challenges' Tab in the upper-left corner
Each Challenge is worth three, five, or eight 'Tier Points'
Earning ten Tier Points by completing Challenges will unlock your next Rocket Pass Tier
Earning a new level via the progression system is worth now worth ten Tier Points
When Rocket Pass is active, three new Challenges are added every Wednesday at 10 a.m. PDT / 5 p.m. UTC
An additional three Challenges (six total) are available to players with the Premium Upgrade
Challenges must be completed within their week-long period
If you purchase the Premium Upgrade more than one week after a Rocket Pass is released, you will earn Tier Points for completed Premium Challenges, so long as their requirements were completed during their original week-long period
Replay FX
You can now enable Replay FX within the Replay Viewer
While viewing a Replay, press the Share button (PS4), View button (Xbox) or F key (PC) to bring up the Replay FX menu
The Replay FX menu has seven options, including:
Focus Distance (Controls Depth of Field Distance)
Focus Blur (Controls how intense DOF Blur will be)
Focus Strength (Controls how much DOF Kernel will affect far plane)
Green Screen (with Red, Green, and Blue options)
Image Filter (with ten filters to select from)
Image Filter Intensity
Vignette
Replay FX options apply to an active Replay or when paused so you can take a screenshot
Use your platform's screenshot function once you have a shot set up with your Replay FX of choice
Crates and Keys
Crate drop rates can now be viewed in-game on the Crate Preview Screen
Players in Belgium can no longer open Crates with Keys due to government regulations
Players in the Netherlands can no longer open Crates with Keys due to government regulations
General
[PS4, Xbox] You can now invite players on the same platform to your party without adding them to your Friends List
Select Create a Party, then select the Search function using Square (PS4) or X (Xbox)
This will bring up your console's PSN ID/Gamertag search window
HDR is now supported on PS4, PS4 Pro, and Xbox One S
HDR requires a compatible television/display and HDMI cable
[Xbox One X] Reduced default color saturation when HDR is enabled
This new default setting is present on PS4, PS4 Pro, and Xbox One S when HDR is enabled on those platforms
Steering and Aerial Sensitivity Controls now be adjusted in increments of 0.01 instead of 0.1
Bug Fixes
General
Fixed an issue that delayed steering, throttle, and handbrake input by one physics frame
Jump ball now behaves correctly on Dunk House (Hoops) in Free Play
Vehicles should now respawn correctly after resetting the ball on Steam Workshop maps
In-game voice chat icon will no longer appear when voice chat is disabled
Players can now reconnect more than once if they crash or disconnect multiple times during a Ranked match
Biomass no longer removes color from trim on some Painted Car Bodies
All appropriate 'Snowy' maps will now appear when playing the Snow Day game mode
'Shots on Goal' now correctly register as a stat when playing Hoops
Rebalanced audio on the ''89 Batmobile'
Fixed a bug that caused some players with very large Customization Item inventories to crash when scrolling through their Garage or Inventory
Fixed a bug causing some players to crash when leaving a Custom Training pack
All items should now display correctly when viewing in the Crate preview screen
[Switch] Fixed a bug causing the game to freeze when using a player profile not linked to a Nintendo Account
Previous Party Chat messages no longer carry over into Training, Private Matches or Online Matches